I love talking about the craft

Yesterday I had the privilege of interviewing one of the best American actors today -
David Morse
- for my new
movieScope
Acting for the Camera column.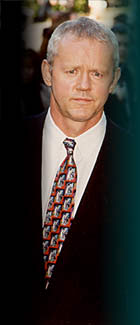 A down to earth family man and topnotch professional, constantly and consistently working in quality TV programs, commercial and indie films, the popular and award-winning thespian will not disappoint actors and other artists who read the column. He has some great advice using analogies that can be visualized when assuming a character - and staying there.
He credits his success to working with acting coach
Bill

Esper
, who told David, already successful in theater, to quit acting for two years and just study with him. David says the suggestion by another actor to "study with Bill is the best advice I've ever been given."
Esper
has a new book coming out this year,
Esper

on

Meisner

.
In
Disturbia

,
David doesn't ever break character, but he did break a finger in a fight scene, and went on to perform in the scene as if he wasn't injured. When I asked him about his digital wound, he told me in his genuinely humble way that breaking a finger was pretty much nothing for him at that point, considering he broke his hand shortly before working on another project, and performed the entire film with a broken hand - which was *mighty* painful. "I couldn't see the character wearing a cast," he said.
Let me say it for him: ouch.

Way to man up, David (who says actors are pansies?!) - and of course turn in another memorable performance!
Our conversation about the craft of acting was also memorable, as I hope my column will be.
Labels: award winning actor, commercial films, David Morse, Disturbia, indie films, television, the craft of acting