Iraq's Congress takes off -- all of August ..
Without passing any laws that would help stabilize the country before they flew away for their vacation.
Every day they are vacationing, living it up outside the dangerous areas of "their nation," more than 8
million
of their fellow Iraqis are suffering - trying to survive without basic resources like water, food, electricity, health care, housing and any measure of safety.
This after the US has paid some 200 billion *borrowed* dollars for reconstruction of the nation devastated from invasion and now civil war, with US soldiers caught in the middle.
Every day in August that American soldiers and civilian workers are wounded, maimed or killed because the Iraqi government literally refuses to stay and work to take control of their country is another day that President George Bush and Vice President Dick Cheney claim they need to "stay the course" and "win the war."
Exactly what does that "win" look like?
We Americans will have to pay for the hundreds of billions that Bush has borrowed to invade and fight that war, plus interest. A war we ought to have never entered to begin with.
Iraqi congress members are not stupid. Why should they stay and do their work when they can be on a paid vacation while the US keeps spending money on their corruption and time off, letting Americans die for President Bush's "crusade."
Rightly, those 8 million suffering Iraqis blame the US for their plight. If we had not invaded
and
occupied their nation, these problems would literally not exist.
Our military would have actually been able to disarm the terrorists at their previous and current headquarters in Afghanistan along the Pakistani border.
And, gosh, it's been proved a dozen times over that half the insurgents in Iraq killing Americans are from our "ally" Saudi Arabia. Just like the terrorists who flew planes into the Twin Towers on 9-11.
More, Saudis are funding these insurgents.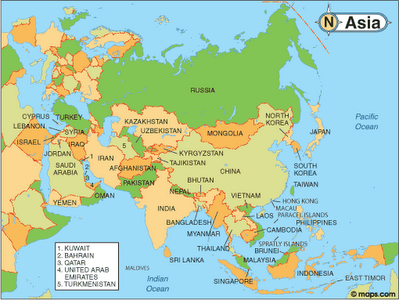 But what did we do for Saudi Arabia just last week?
President Bush asked the US Congress to allow the sale to Saudi Arabia $20 billion dollars in state-of-the-art weapons! They include advanced satellite-guided bombs, upgrades to its fighter planes and spanking new naval vessels.
Why give the Saudis all those advanced weapons?
In the minds of the Saudis, to offset Iran's supposed building of nuclear power, and President Bush agrees with his Saudi friends.
His close Saudi friends who warned him NOT to invade Iraq because he would set off more problems than he solved if he did.
And of course arming the Saudis means that we'll have to give another ally, Israel, more billions in support and sell them the same state-of-art weaponry because you *know* Israel is screaming that they are now more vulnerable with the Arabians having those state-of-the art weapons.
Hmm. True. But do you understand that this escalation is because of President Bush's "crusade?"
Do you understand that it's only common sense that many more world stability dominos will fall thanks to the "crusade" that President Bush is hell bent on "winning" at our expense.
Our "ally" Pakistan, which also houses terrorists, right on the border of Afghanistan from which Bush ordered our forces withdrawn to be redeployed to Iraq a few years ago, already has nuclear weapon capability.
So does India (thanks to the US), Pakistan's longstanding enemy.
Before President Bush invaded Iraq, there were serious concerns about these nations, their growing ability to arm themselves with nuclear weaponry because the stability of the entire region hung by a thread.
Please look at the map to see the close proximity of all these nations to one another and understand that leaders from all other nations and many members of the US Congress who voted against giving President Bush authority to invade Iraq were well aware of the tenuous relationships they had before the invasion of Iraq.
Um, none of those countries have moved. They were in the same place and just as close to one another before President Bush decided to make Iraq a democracy. Which it has no chance of becoming because of the additional warring factions of the Sunnis and Shiites and Kurds.
All three factions of Iraq who are no different now than they were before the invasion. Except they're armed. And dangerous to each other as well as to American soldiers.
Yep, the Bush-Cheney team not only broke the thread, they cut it with a hachet in 20 places.
All compliments of you and me paying our taxes, unlike
Haliburton,
which is paid billions to "rebuild" Iraq. It moved its headquarters from Texas to Dubai in order to avoid paying taxes in the US.
I have no idea how it could possibly happen - seriously - but I believe that as more and more facts emerge about the astonishingly dishonest actions and proclamations made by Bush and Cheney and their henchmen over the past six years, US Attorney General Alberto ("I don't remember.") Gonzales will be out within a month; and that Bush and Cheney will be out of jobs long before the end of their term.
Not because of any sort of liberal movement - but because conservatives are just as upset with him as the liberals. They believe Bush lied to them and is in no way reflecting a conservative agenda.
Piling up so much national debt is a good start; conservatives don't like government spending money. Disregarding the US Constitution and Bill of Rights comes a close second. Not supporting our troops comes right behind that - the troops are not getting what they need in the way of armaments to protect themselves (perhaps if they were Saudi Arabians....), the war in Iraq was mismanaged from the
getgo
, and US veterans are not receiving proper care when they come back wounded, maimed and in coffins.
Labels: Afghanistan, Alberto Gonzales, Dubai, Hailburton, Iran, Iraq, national debt, Pakistan, President Bush, Saudi Arabia, Vice president Cheney, weapons deal