THE WHOLE TRUTH poster!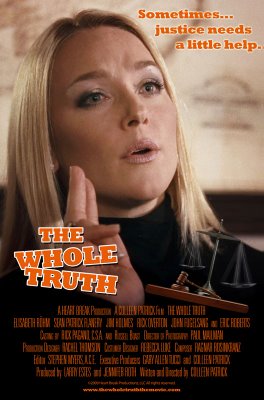 We'll have these plastered all 'round for the world premiere and second screening at the Seattle International Film Festival.
We're also using them to decorate the private reception we're having for cast, crew, friends and family!
Isn't that a terrific shot of
Elisabeth Röhm
?
It's a still frame from the film, so everyone who sees it will recognize which scene it's from!
At the
Official website
for THE WHOLE TRUTH, you can click on the poster and it gets quite large!
If you need incredible photoshop artist, we were referred to Josh Garretson by photographer Adam Weintraub!
Labels: Adam Weintraub, Elisabeth Röhm, Josh Garretson, The Whole Truth poster, The Whole Truth shooting blog