Wow! What luck!
My next
movieScope

magazine
interview - which I get to do next week - is with one of the world's most brilliant, special, beautiful and wickedly talented actresses,
Samantha Morton
.
The British Oscar-nominated
thespian's
credits are legion since she started as a child actor; her work is considered the finest and audiences show up to see
anything
she's in on the big and little screen.
My best mate in Manchester, England, a TV critic, says he will show up at any theater or watch the telly any time of the day or night she can be seen.

Most recently she lit up television sets all over the UK and on HBO in the US with her memorable performance as Myra
Hyndley
in the feature length film
Longford
.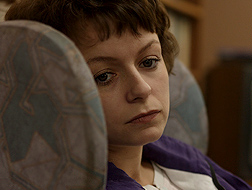 She has a number of upcoming films to be released, including
Expired
,
Control
,
The Golden Age
- she plays Mary Queen of Scots,
Mister Lonely
- in which she plays Marilyn Monroe, and
Synecdoche

, New York
. I wonder what she's done in her "spare" time?
All but
Synecdoche
, New York are scheduled for release this year, which means that she should have at least a couple roles that would attract Oscar buzz.
Not a stitch of "Hollywood" about her - Samantha Morton's all about being a real person who just happens to blow everyone away who sees her perform on the big or little screen, and is obviously a great actor with whom to work. And she's worked with - and continues to work with - the best.
I've got to come up with some spectacular questions, since she is all about the art and craft, the joy of doing what she loves, living a down to earth life with friends and family and enjoying every moment of it!
Labels: movieScope international filmmaking magazine, Samantha Morton