My new movieScope camera acting column features--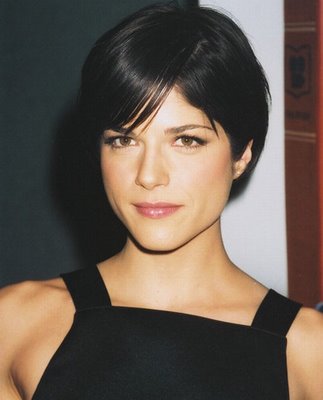 Selma Blair
, with three very different current films in the mix, including the
megahit
Hellboy

II
as well as an upcoming NBC comedy series
Kath and Kim
, is so disarmingly honest about what she sees as her shortcomings, I found myself encouraging her to give her psyche a break.
Blair says she never thought she would have a camera - film or TV - career because, "I thought I wasn't attractive enough." I assured her in my own, inimitable way, "Really? You are definitely not chopped liver!"
Said she: "I have my moments."
Right. Well, take a look at her photo and I ask you -- what's not gorgeous?
When you read the column, you'll understand why so many good directors and actors love to work with her on such a variety of commercial, independent and television projects.
Kath and Kim is the American version of the hilarious, extremely popular
Australian TV series
of the same name, based on the dysfunctional relationship between a mother and daughter. Selma portrays Kim, the daughter, whose self-image is inflated to the point of absurdity -- *completely* opposite of the actress herself.
Two gritty, visceral films she recently worked on are examples of her extraordinary range:
Lori Petty's The Poker House
and
Tom

Shankland
's
WΔZ
(pronounced: W Delta Zed) are stories of extremely damaged characters -- Selma says she feels more comfortable portraying flawed characters than "normal" people.
"I usually fall flat," she says about her turn at acting roles of "regular folks."
See what I mean?
Anyway, to pimp the
movieScope
column, I'll just say that she *does* give herself credit for giving good performances as she works with and learns from great directors and superb actors.
But not much.
Labels: camera acting columnist, Colleen Patrick, Hellboy II, Lori Petty, movieScope international filmmaking magazine, Selma Blair, The Poker House, Tom Shankland, W Delta Zed