Film distribution
In this still frame from THE WHOLE TRUTH, acting coach Angela Masters (Elisabeth Röhm) coaches a criminal client as lawyer sidekick Brad Sanders (Jim Holmes) approves.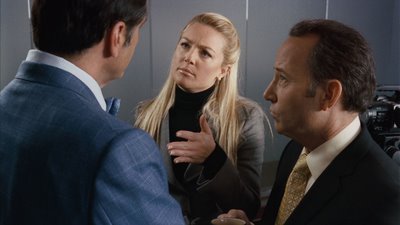 Something special is happening with our movie, thanks to our appearance in the Seattle International Film Festival, my website and blog, the growing numbers of folks watching the
trailer
on YouTube, the poster for the film,
THE WHOLE TRUTH official website
, other entertainment websites and blogs, fan sites, word of mouth and "buzz."
We've been contacted by several legitimate film distributors - worldwide (domestic and international), international (outside US) and domestic (US and, usually, Canada).
At this point we're keeping a list of all interested distributors who have contacted us - and will continue to add to that list through our
SIFF
screenings, as well as including distribution contacts we already have.
We're checking reputations (some promise but don't pay filmmakers their share of the profits, others are spot on fair and honest) and records for supporting and marketing films they have chosen.
Marketing is a big deal. It's a costly endeavor and we can name the films that died because of inappropriate, poor or totally misguided marketing on a roll of toilet paper, there are so many.
I started marketing THE WHOLE TRUTH in a unique way; one that is intended to raise
curiosity
and promise about the film without giving away the hundreds of surprises contained within. It's also a thriller/screwball comedy whose genres I've turned on their ears, which means that it's, um, different.
I think it's different in a way audiences will love -- but we'll find out if that's true next week, won't we?
We're also looking for a distribution partner, not someone simply wanting to make the most money from just one film, or a "one-off."
We're going to be making films for many years to come, so we want to hook up with a solid distributor who will be with us for the duration. We're only making quality, entertaining films, and we're looking for someone who feels the same way about marketing and distributing quality, entertaining films.
Meanwhile, here is what the SIFF program viewer wrote up about THE WHOLE TRUTH for their catalogue - I think it reveals the tone and texture of the film very well - it's what most distributors unfamiliar with our film are reading:
Angela Masters is an acting coach with an unusual client list.

Instead of catering to Hollywood celebrities, she gives what could be described as personality transplants—"character transformations," if you will—to accused criminals.

By making her clients appear slightly more sympathetic to juries, Angela has become a specialist in securing acquittals for some decidedly shady characters.

This lucrative enterprise is interrupted when Angela overhears a client she helped set free plan a heinous crime—then she becomes a target for murder.

Portrayed by Elisabeth Röhm, of Law & Order fame, Angela discovers that escaping death and finding who she really is becomes the most expensive—and rewarding—experience of her life.

The plot points resemble those of a pure courtroom thriller, but Seattle director Colleen Patrick, in her feature debut, has turned the genre on its ear to create a fast-paced and hilarious satire about the current state of the legal system.

Billing itself as 'a screwball comedy—with a twist,' the film contains sharp dialogue and strong comic performances.

Filmed at various locations around Seattle and Tacoma, The Whole Truth packs in rapid-fire laughs, but also neatly skewers the sorry state of the American 'justice' system.
Come this weekend, THE WHOLE TRUTH
trailer
will also be available through the SIFF online catalogue for them to peruse; the
official website
is already posted.
Labels: Elisabeth Röhm, film distribution, producer-writer-director Colleen Patrick, SIFF, The Whole Truth shooting blog