Another British invasion-- UK TV hosts are the best!

Brit
Denise van Outen
did a fantastic job on the BBC-produced US reality talent TV program
Grease: You're The One That I Want
. It was a search for new American lead performers for the revival of the Broadway musical
Grease.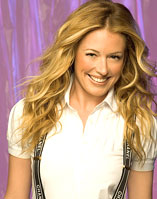 If you watch the piping hot
Cat Deely
on
So You Think You Can Dance
, who obviously loves her gig, music, dance and the people with whom she works - or any of the other reality programs in the US now hosted by British talent, the first thing you might wonder is why American hosting talents aren't nearly as good. They come across as blah. White bread. Shallow. Self-involved rather than sounding knowledgable and making a warm connection with those on their show or the audience.
When
Ryan Seacrest
was criticized so roundly in the first years of his hosting chores for
American Idol
by judge
Simon Cowell
, I'm sure US audiences thought he was too tough on him.
Then when I was in the UK last year, I watched some reality shows with British hosts and thought, "No wonder Simon was so harsh with Ryan. These British hosts are absolutely
dynamite
." A complete cut or two - or even three - above their US counterparts.
The difference to me is clear. The Brits just present more genuine personality, more humanity, more connection with the people on the program as well as their audience. It's not about them at all, it's about the contestants, talent, judges and audiences. It's about moving the show forward and recognizing who or what we want to hear more about - or
less,
for that matter.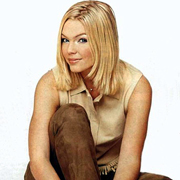 I saw
Kate Thornton
host a celebrity talent show in the UK called
The X Factor
, another Simon Cowell show. While she was criticized by some in her home country? She blew me away compared to so many American humanoid hosts.
I'm sure it's the reason US television producers are looking more closely at stand-up comics with recognizable personalities,

who tend to be already beloved by audiences such as
Jeff Foxworthy
to helm reality programs such as his new hit,
Are You Smarter Than A 5th Grader
?
After seeing such superb real people who happen to be British hosting programs, watching someone like
Adrianna Costa
rep the Steven Speilberg/Mark Burnett produced
On the Lot
hurts.
California/Hollywood-produced hosts seem to have had all their grit and humanity MIA; they appear to be unable to think on their feet as quickly as they need to, express an original thought or reveal any sort of substance or real knowledge. Or for that matter actually relate like real people with the people they host or their audiences.
It's true of a lot of American actors as well. They seem to have had their "juice," their humanity, trained out of them so they come across as empty, bland and flat as cardboard. Perhaps those American hosts went to the same schools.
I don't know. What I do know is that as long as the Brits continue to be as good as they are? They'll be hosting more and more shows in the US - and only because they deserve the jobs.
Labels: Cat Deely, Denise van Outen, Kate Thornton, Ryan Seacrest, Simon Cowell, So You Think You Can Dance, TV hosts