Neither rain nor sleet nor snow ..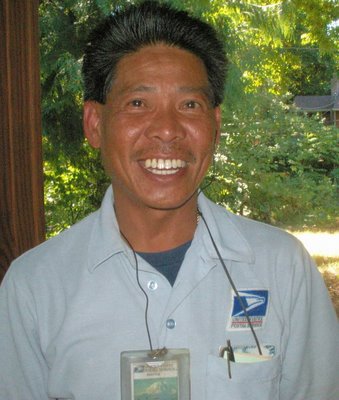 Meet Jesse.
He's my mail carrier.
My mail box is a small walk away. Down the long driveway is no big deal when I'm healthy, but when I went through a year and a half of chemo and radiation to kick breast cancer to the curb? It felt like a marathon.
Jesse keeps tabs on his route residents and found out from my neighbors that I was ill, so he started bringing my mail to my door. Like, nearly every day. I received packages from all over the world - a wonderful international online group to which I belonged, The Chalupas, among others, were sending me hats from all over the world because chemo was costing me hair.
Actually, I didn't lose it all the way so many do, but just enough that I looked better in a cap than coiffed.
I still have days here and there that I'm a little under the weather - they come less often. Jesse continues to deliver larger packages to my door, checking up on me to make sure I'm OK.
One thing about Jesse - no matter how miserable the weather, the day or his life might be, he always greets me with that terrific, unfailing smile. I'm sure there were days when I looked like
Edvard Munch's painting The Scream
, but never felt like it because of that smile.
I know there are lots of complaints about the US Postal Service, and when Jesse has substitutes I have a few myself. I receive letters to other addresses, *packages* to other addresses, late deliveries, etc. Overstuffed mailbox.
Fortunately this doesn't happen often.
Christmas time I give Jesse something *I* would love to receive, and it's the least I can do for someone who watches out for me and all his residents so conscientiously.
Thanks so much for being such a wonderful person - and the world's BEST mail carrier, Jesse!
Labels: breast cancer, chemo, Jesse, mail carrier, radiation, USPS