A must-see sorrowful, shameful US history chapter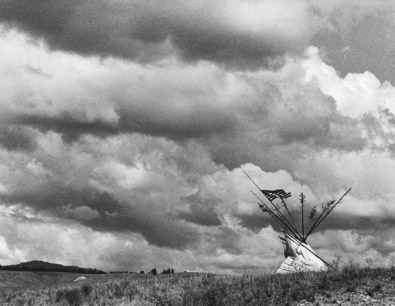 This is the iconic image of the haunting history of the US Government's
genocidal
crusade to eliminate Indians and all tribal peoples from America.
Produced by
ReelNative
, a group of Native filmmakers, this is a disarmingly even handed recounting of a national history seeped in written and legal evidence; Supreme Court rulings outlining the sovereignty of tribal lands that went unheeded by President Andrew Jackson and southern states.
In fact, Jackson made it a primary goal to rid the nation of its Indian/tribal populations. In his promise to move the Cherokee people to a safe, sovereign region, he set off the Trail of Tears. The
thousands
of Cherokee were given blankets infested with smallpox.
En route
to their "new home" during the forced march they faced hunger, sickness, and exhaustion. More than 4,000 out of 15,000 of the Cherokee men, women and children "died" in a mission calculated to decimate their numbers.
You can see the full episodes online
here
as well as on PBS television stations, and the DVD is also available.
I guarantee you, even the most racist, hard-hearted person will be stricken by the insane, cruel, shockingly cold-hearted treatment of the law-abiding, peace-loving peoples (many of whom had adopted European ways, established an independent, constitutional democracy and addressed the US Government through legal and congressional channels) received at the hands of the US Government from which they are still recovering.
One particularly sickening piece of legislature passed by Jackson: the "Indian Removal Act."
More, the state of Georgia set up land grabs by white people of the Cherokee Nation in western Georgia when the Cherokee Nation was a legally sovereign country. Georgia's government simply ignored the law and stole the land from the Cherokee.
Feeling helpless to address the US Government in the way the government dictated - "legal" avenues - because it turned out to be a waste of time, many took the only path to any sort of
autonomy
they could: fighting back and violence. Even among themselves.
I have to watch these episodes in fairly short spurts because the information is so incredible - we have been so seriously misinformed about Native Americans and their treatment by the US Government - that it is heartbreaking to witness these facts.
The best part of this series is that, educated, we can all make certain this does not happen again - and try to attend to the destruction that has been needlessly imposed on tribal peoples for the centuries since Christopher Columbus landed.
Labels: Cherokee, genocide, Georgia, PBS, President Andrew Jackson, ReelNative, Trail of Tears, US Government, We Shall Remain