..as we treat the least of us ....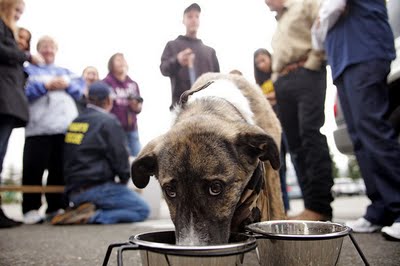 Here's an
Erika Schultz
photo of Oso, a dog rescued from the war in Afghanistan, flown to be with his new owners in the Seattle area.
Read
The Seattle Times'
story
here
.
This traumatized - yet friendly, affectionate dog will have a battle zone-free life the rest of his face licking, well fed days.
He's staying at a safe animal rescue haven for his quarantine period, then it's a short trip home to be with with his rightful owners, who eagerly anticipate giving him the tender loving care all creatures great and small deserve!
Labels: dog rescued from Afghanistan war, Erica Schultz, Oso, Seattle Times