One major key to success ...
Chris Rock
, recalling his early show biz days, said that he was the
least
funny stand-up comic in the group of comedians with whom he started.
"They were much funnier than I was," he told Oprah.
But what separated him, ultimately, from that talented bunch was his work ethic. He did his homework daily, diligently, faithfully.
Seeing themselves as funny, his pals didn't feel they needed to work as hard on their craft as Chris did.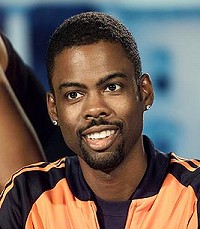 So while they were out partying, Chris was busy working on finding his authentic voice, discovering and perfecting the minutiae and specifics of the craft so he could make us all laugh by telling us how he sees the world.
Ultimately, aside from a short stay on Saturday Night Live (which didn't do much for his career), he was able to hone his talent, writing and performing, to become the genuine genius we know and pay lots of money to laugh at/with today.
By comparison, it's clear that he hasn't devoted the same attention to studying camera acting for his films that he did stand-up comedy .. but if he did? Wow!
Meanwhile, his stand-up preparation story reminded me of camera acting classes I taught several years ago (today I generally only do special seminars and classes for the people who study with me one on one).
The noticably talented and more experienced people would come across much better than the total newbies and those who didn't seem as talented or who didn't know a thing about acting - let alone acting for the camera.
Because of this, the actors who thought they were better than "the rest" tended to slack off doing their homework, which I designed to help them build a strong foundation for all the work they would do in the future as well as teach them how to develop any type of material handed them, working for any visual medium.
The slackers made me reflect on my own experience as a kid in public school (that's private school for UK readers). If I felt I knew enough to skate (not do my homework and still get a good grade), I would.
That changed in college. Hugely.
But oh, my. I paid the price for not doing my homework when I was a kid and realized how much I cheated myself out of a lot of knowledge, especially building the crucial foundation of groundwork I would need for several college courses and, um, oh yeah - life.
Well, about halfway through the camera acting course I taught, the actors who had worked their butts off doing the homework started to surpass their talented classmates who had slacked off.
At this point, the talented folks started to recognize that "the rest" were doing better work than they were. And that the only difference between them was that the
supposedly
formerly lesser talented actors were doing the (boring, tedious to them) homework.
Trouble is, because the "lab work," as some came to call it, is organic and needs to be done almost daily in order to build on skills that grow naturally, concomitantly and exponentially, it was impossible to catch up.
You can't "catch up" by doing 100 push-ups if you were supposed to be doing 5 a day for 20 days to build strength and stamina.
Like a professional athlete has to work out properly and eat nutritiously every day to properly prepare to play for a sport. If those muscles are not exercised daily and built in a certain way, injury and incompetence can result.
Interestingly, I've discovered that many of the most successful artists with long careers I know and have read about were nerds in school - they established great work habits, did their homework and got good grades. This includes some who would prefer you thought they were raised in rough trade to get their "rap" street cred.
If you weren't - or are not - one of those kids, you can learn how to attain good work habits - there are lots of resources online, counselors at schools and books at the library to show you how.
It's never too late.
But before you do that - there has to be an unabiding desire to want to do the work - and to do it well. Then to keep growing personally and professionally because it's your passion.
It's not enough to want to be a star, an actor, rich and famous, or "somebody." It's not enough to want only to work.
The goal is to do your best.
For no other reason than to feel genuinely accomplished, content, proud and rewarded by knowing you've given it - whatever that is - your "all."
As I tell one of my talented clients, "Why settle for OK -- when you can do so much better?"
It's like asking, why would you settle for a life less lived when you're capable of making a difference - in someone else's life as well as your own.
Remember the best stories told are about ordinary people - doing extraordinary things.
"Ordinary" people - like Chris Rock. ;-)
Labels: camera acting coaching, Chris Rock, success, work habits