And the Oscar goes to ...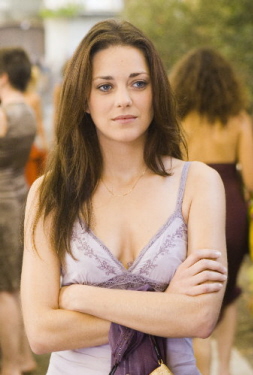 I feel as if I've witnessed an artistic miracle - in biblical proportions - with the performance of French actress
Marion

Cotillard
as she assumes the character of the legendary French chanteuse
Edith Piaf
in the film titled La
Môme
(The Kid) in France and
La Vie En Rose
in the US.
Visceral, feral, amazing and pure genius don't begin to adequately describe her transformation into the the internationally renowned singer, who would today be proclaimed a "superstar."
The tough streets of Paris was her
bassinet
; prostitutes, drug addicts, predators and drunks her babysitters and role models.
Anyone she ever loved or who cared for her as a child was cruelly torn from her as she screamed and wept helplessly; her famous singing stance with open hands held out - as if begging for them to either stay if they were being dragged from her, or to come with her as she was being wrenched from their hands - was the story of her life.
Like any youngster whose world is out of control, Piaf ("Sparrow") sought to control everything in her life as she grew up. Addicts and alcoholics are frequently raised in environments experienced by them as out of control and find an immature sense of control by abusing alcohol, drugs, sex, food, gambling and/or people.
She died at the young age of 47, suffering the ravages of alcohol, morphine addiction, cancer and the remnants of her rough life. She looked 87.
La Vie En Rose
was her signature song. Literally its translation is "life in pink," but its meaning is seeing life through "rose colored glasses." The song essentially says that though the world may be pretty wretched outside, when I'm with you, it's beautiful.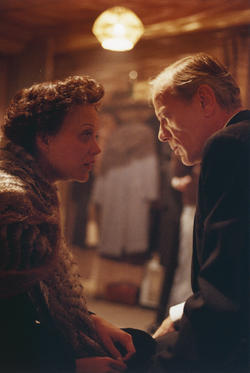 She was all about love. Seeking it, begging for it, finding it, cherishing it, losing it, needing it, wanting it- it's one of the qualities that made her such an international star. She had no qualms about openly telling the world how much she suffered for it, with it - and without it. We tend to keep those feelings hidden, locked away, ashamed or frightened to admit it.
And it wasn't that she was always lovable. The most memorable line in the film for me comes as she starts reworking a show which was set to perform in a matter of hours; a show already "completely prepared."
The irate producer insists she could not make any major changes that late in the day. Unheard of! He kept screaming, "You can't do this! You simply can't do this!"
To which she blithely responded, "If I can't, then what's the point of being Edith Piaf?"
This is the role of a lifetime - of several lifetimes - for
Cotillard
. As
Hilary Swank
's was for
Boys Don't Cry
. As
Monster
was for
Charlize

Theron
. As
Gia
was for
Angelina Jolie
. Interesting they're all biopics.
Despite
Harry Potter
and other fantasy films coming out this year, my bet is that make-up, hair and costumes awards will go to La Vie.
Marit

Allen
's costumes are flawless - and since I think every actor in France wanted to be in the film (and succeeded-the cast list is
formidable
), there are *dozens.* Key makeup artist
Gabriela

Polakova
and her crew are brilliant, as is prosthetic makeup artist
Ivo
Strangmüller
. Key hair stylist
Jan Archibald
and staff deserve kudos for their amazing work. And a standing ovation.
Director
Olivier

Dahan
also co-wrote the script.
There are some scenes - one in particular that I won't mention because everyone "
oooo's
" and "
aaaah's
" when they see it in the theater - that are divinely created. It's clear this is a labor of love by everyone involved because, although snippets of her life have been captured on screen, some
en rose
, this is the first attempt to show her full life.
But -- you were expecting the "but," right? But, being an ardent Piaf fan myself, I thought the film took on too much. Attempting to portray her extraordinary life from birth to death turns out to be too herculean a feat for
Dahan
. Even though it's a short 2 hours and 15 minutes long, many critical, crucial and admirable highlights of Piaf's time on earth are glaring in their
absence
.
La Vie dwells so much on the boozing, addicted, dysfunctional, obnoxious, whoring, self-indulgent Piaf that it neglects the courageous work she did for the French Resistance during World War II as well as other acts of generosity, bravery and kindness - not to mention her sense of humor when she was sober.
I found that disappointing. I was also disheartened they didn't feature more of her songs. There are musical bridges referencing them, but not the songs themselves.
Those that are sung, however, are recordings by Piaf, with very few exceptions.
The
reason to watch this film, no matter script, directing and story issues with the overall production, is Marion
Cotillard
. If you want to know and understand what supreme camera acting looks like, and how
une

artiste
brings genuine humanity and intimate life to a character whose being took on immense proportions - please see this film.
I shall. Again and again.
Here's the
French version of the trailer
- it's different than the US trailer (the intro is the trailer - don't skip it):
Here's the
US trailer
(again, the intro is the trailer):
Now, beloved reader, if you've never heard or seen her before, or if you're a fan, I present --
Edith Piaf singing
La Vie En Rose
.


And this is my one of my favorite Piaf songs,
Les

Trois

Cloches
.
Just in case you're curious and not familiar with Piaf's vocal heir apparent, here is
Mireille

Mathieu's
version of
Les

Trois

Cloches
.
Labels: Angelina Jolie, Charlize Theron, Edith Piaf, Hilary Swank, La Mome, La Vie En Rose, Les Trois Cloches, Marion Cotillard, Mireille Mathieu