Be well ... be happy ...
Karen Janes - a name you probably don't recognize - has died after fighting cancer for two years.
A professional musician, she lived in the Seattle area, playing and teaching the piano and double bass.
The way I knew her was that she accompanied me and a bazillion other singers on the piano. There was no type of music she couldn't play. Since I sing a variety of musical styles, it was always fun to include her when I could with the performance.
As you might imagine, the majority of her concert work was done for formal programs, where singers wear black and clasp hands as they perform, reading their music sheets.
Well, the first song for which she accompanied me was "We Need A Little Christmas," a very up tempo tune from the Broadway smash, "Mame."
As I took my place on stage, dressed in colorful seasonal hues, I clasped my hands, she sat perfectly erect, looking at me for her cue. I suddenly turned to her and said, "Hit it, Karen!" And she had her ways with the keys, rocking up the song the way I performed it - moving/dancing around the stage (I introduce myself by saying, "costumes, choreography and arrangement by Colleen Patrick").
I would excuse myself for a costume change. Costume "changes" normally consisted of adding or removing a muffler scarf, a hat, or something normally considered a lesser accessory.
We both had a terrific time - the audience seemed to have *at least* as much fun as we did. We hoped more but wondered how that could happen.
Another song we performed that suprised our audience came at my singing coach's (Nedra Gaskill) birthday bash. Many of her coachees sang a song for Nedra, accompanied by Karen.
I decided to ham it up (surprise, surprise) and perform a song I had never sung before but in *full* costume, with props.
The tune was "Little Girls," from the B'way hit, "Annie." Karen, again with perfect posture, hands hanging over the keys, waited for my cue - which I gave her off stage. With the intro underway (she had a share of ham in her heredity as well), I stumbled on stage in my aged, oversized robe, massive mule slippers, shower cap and whisky flask.
The character I represented, Miss Hannigan, was drunk, you see.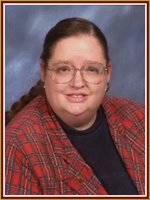 Karen followed my unique cocktail lounge treatment of the song as I made my way through the tables, making a couple passes at men and women in the crowd (Hannigan was drunk, you see), occasionally running back to read the lyrics I was faking, continuing to tunefully lament being surrounded in the orphanage with Little Girls - including Annie, naturally.
I recall her looking at me, carefully trying to follow whatever the heck it was I was doing to that poor song as I rushed back and forth checking on the lyrics that sat on a music stand near her piano, since I'd never performed it before.
Chutzpah CP, that's me.
Comedy 101: you can entertain audiences, convincing them you're funny when you wear a worn old bathrobe, mule slippers, a shower cap and appear to be stumbling drunk using a whiskey flask prop.
The funniest part came at the end, when Nedra's neices - about 5 and 7 years old - were supposed to be afraid of me when I reached out to "strangle" them, chasing them off stage as the song ended.
Instead their eyes were lit up and they only smiled (OK, perhaps they may have been outright laughing at me), not budging a bit as I held the last note of "giiiiiiiiiiiirls..." forever. Finally, I put my hands on my hips, frowned, and said, "You're supposed to be afraid of me and run off stage, remember?"
Ah. Yes. That.
And they ran off, not quite selling the "scared" part. The audience loved it as I shrugged and shook my head - Karen played us off with music she found in her head somewhere. That was difficult because being such a classically trained musician, she was more for reading music than improvising it. But she managed.
Now, lest you think that this is a woman who simply accompanied amateur singers or taught children and adults here over the years because she had no choice; that her talent and accomplishments began and ended here, think again.
She lived here, as so many of us do, out of choice, not out of chance.
Check out some of her credentials.
In the course of her career Karen studied with John Wustman, accompanist to Luciano Pavarotti (I never had the courage to ask if she saw any resemblance between working with me and Pavarotti).
She performed with numerous classical organizations and was a member of various performing groups including: Bellevue Philharmonic (as their principal double bassist) Orchestra, Midsummer Musical Retreat, and Performing Arts Festival Eastside, of which she was past president.
She was the current president of Thalia Allied Artists. Karen worked with the Seattle Opera Review program, the Village Theater (a legit professional equity theater here), many singers and instrumentalists, and regularly accompanied more than 50 concerts a year.
She was sought after as an accompanist for auditions as well, from opera and college auditions to the annual state Solo and Ensemble Contest.
A quiet sort - at least when I was around her - Karen always seemed not quite at peace with herself; never quite happy. When told of her recent passing, the first thing I thought was, "I hope you are at peace now, Karen, and truly happy."
She was 51 years young.
At her memorial next week, I plan to sing, "You Raise Me Up."
A capella.
Labels: accompanist, Bellevue Philharmonic Orchestra, double bassist, Karen Janes, pianist