Flims slate set
I'm really happy that our feature films slate (list) for 2010 is set.
I'm already working on the four scripts (one of which also needs an accompanying book and song) - writing and developing to write/direct.
Something I'm clear about however, is that as passionate as I am about my work, love comes first. And I guess along with that comes responsibility for the TLC of my homestead, friends and all my loving relationships.
I think this is the reason I am looking forward to seeing UP IN THE AIR with George Clooney - I think this is the lesson his character learns. Though his job sucks on the scale of humanity (firing people to cut the bottom line) and mine depends on the good will of everyone with whom I work. The last thing I want to do is fire someone.
For some reason today I thought of the late Bernie Mac.
At an Emmy Awards pre-show, along with other nominated actors, the interviewer asked all the handsome men their favorite "pick up" line. What they said to women to get them interested in going out with them.
The answers were many and vast. Talk about her eyes, notice her hair, ask about her favorite ... whatever, and so on.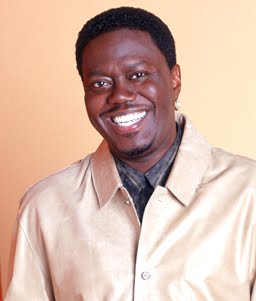 When the question was posed to Bernie, who was well known for having a strong and long marriage, he responded, "My favorite pick up line when I was dating? Seriously?"
The interviewer quietly waited as Bernie looked at her thoughtfully and said, "Hello."
He added he did not believe in trying to deceive or impress anyone to win their affection. He preferred simple honesty.
I miss that guy.
Labels: Bernie Mac, Emmy Awards, George Clooney, passionate about work, pick up line, relationship and work balance, responsibility, Up In The Air