Wanna meet a family of champions?
Meet
Team Taylor
.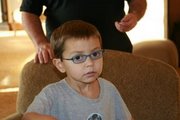 Jojo, 4 years old and one of the stars in my
Heinz ketchup commercial
, is in the opening rounds of fighting a winning battle with leukemia.
His family has pulled together and put up one of the best blogs ever about his heroic efforts and work to get well - to get away from hospitals and transfusions and all those tests!
All the Taylors are heroes in my book. Jojo's brother even waited to open his *birthday presents* until Jojo could be with him to see him rip off the wrapping paper and all the great stuff inside the boxes!
Check it out - all the prayers, good wishes, good will and healthy thoughts going his way through this blog are definitely making a difference in Jojo's treatment and recovery.
Feel free to leave a message for this incredible family and their son, the star!!
Labels: brave kids, championship team Taylor, fantastic family, Heinz ketchup commercial, Jojo, leukemia