Attending Oprah's Class

No matter how you feel about the philosophies discussed by Oprah and author/spiritualist
Eckhart Tolle
about his book
A New Earth
, it's a fascinating insight into the capacity for the individual human experience, the individual's human potential and the constructive potential of humanity, despite the wretched and destructive acts with which the media are filled - to which we expose ourselves near daily.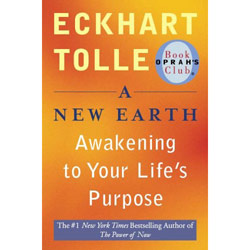 I'm watching it live every Monday at 6pm Pacific US time; up to two million viewers have watched a single session. I'm enjoying the discussion immensely. A lot of what is said is a reflection of my points of view - much of which you've read here, so I'm probably biased.

The 90-minute classes, based on Oprah's latest book club selection, are webcast - it's reportedly drawn the largest audience for any webcast ever - so there were a few bugs to work out in the beginning. The webcast sessions are now flawless.
We're on chapter four; you can catch up by downloading the video webisodes, the audio podcasts or the transcripts - reading the book and filling out the workbook that you can dowload from
Oprah's website
.
Bring an open mind, a desire to be happy, to love yourself and to succeed - as a person and as a contributor to the world.
Leave behind the desire to smack Oprah for interrupting Tolle as much as she does when she has her "AHA!" moments. Moments we may or may not share ... ;-)
Labels: Eckhart Tolle, Oprah's book club selection The New Earth, Oprah's The New Earth classes, The New Earth