The Friars Club loves THE WHOLE TRUTH!!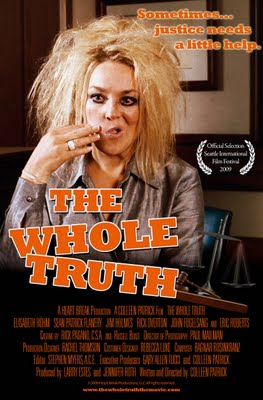 The Friars Club
in New York City has been the pinnacle of comedy some 100 years; they believe that great comedy films have been overlooked far too long for major awards consideration, so they're out to change that.
With the world premiere of the Friars Club Comedy Film Festival.
I was called this morning and we are officially in it! You have no idea what a feather in our cap this is for
THE WHOLE TRUTH
- these folks *know* comedy!
They positively loved the film - the version they saw was the first cut (the Seattle International Film Festival version) so they'll love the current, second cut even more! They listed a number of details they particularly liked and appreciated about the film, which meant a lot to me.
It was especially terrific that they called to tell me - so often festivals just email filmmakers.
The film opening the festival premieres the new Coen Brothers comedy,
A SERIOUS MAN
.
More information as it becomes available, but the festival takes place Thursday, September 24-Sunday September 27, which gives us little time to prepare, get our new posters made up including the FCCFF laurels to take with us, and figure out what to wear.
Oh-and right after I hung up with the Friars Club reps, a distributor called me! He was happy to hear about our selection for the Friars Club Festival - and I told him about our next film THE LONELY GOATHERD, whose tag line he found very promising: "All Harry Lochman ever wanted was a wife and kids. He got half his wish."
September 8, 2009, has turned out to be memorable!
Labels: A SERIOUS MAN, Coen Brothers, Friars Club, Friars Club Comedy Film Festival, New York City, The Whole Truth