A Practical Guide for Screenwriting

That's the title of the seminar I'm presenting at the 55
th
Pacific Northwest Writers Association Conference this summer.
My workshop takes place Saturday, July 24
th
, 10am, at the
Sea-

Tac

Airport Hilton Hotel and Conference Center
. The room number will be made available after you register. Workshops normally run 90 to 120 minutes; I hope it's a full two hours, but won't know until the schedule is released.
I'll be talking about the ins and outs of screenwriting that I've never heard at other screenwriting workshops, most of which are held by folks who are script analysts and writing teachers rather than professional screenwriters who actually write and create scripts. So expect different.
It's down to earth, hands on, from the trenches information I've learned over the years from actually doing the work. These insights should help experienced screenwriters as well as those who wish to be screenwriters.
It's about telling our onscreen stories from the page: how to do it most effectively, how to build successful habits, how to have fun doing what is ordinarily a solitary, stressful endeavor. Myself, while I work harder than anyone I know, find writing enjoyable and exciting - even its most isolating, grating, tedious aspects.
Being a writing coach as well, who has worked with dozens of writers one on one, I plan to fill the room with wall to wall effective writing tools, then show you how to use them
IRL
(in real life).
Warning: my seminars are not for the humor impaired. The material may be serious, but our time is designed to be enjoyed, so we'll definitely share a laugh. Or two. Or three!
Several literary agents will be on hand for conference participants to meet - be sure to check out the
PNW
Writers Conference
website
as their names and material they seek are posted over the next few months; appointments are scheduled with them on a first submitted, first considered basis.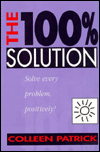 I'll also be autographing my book The 100% Solution Friday evening, July 23, at the Barnes and Noble mini-bookshop at the Conference Center, in case you want to drop by and ask any questions about anything you want me to cover at Saturday morning's workshop. And perhaps even pick up my (autographed!) book!
I'll mention this a couple more times before the conference. Hope to see you there!
Labels: A Practical Guide for Screenwriting workshop, Colleen Patrick, Pacific NW Writers Conference, screenwriter, screenwriting