Beresford & Wallace break through!
Talk about good news!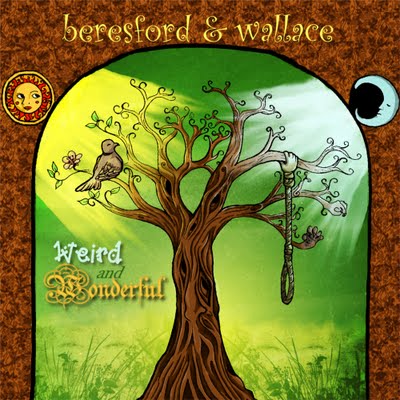 For several years, my best friend John Beresford - an artist of many trades (novelist, lyricist, poet, singer, screenwriter, webmaster supreme, more) in Manchester, England, and singer/musician/composer Annie Wallace, also in Manchester, have been creating songs.
As they became more serious about this endeavor, John and Annie gave themselves a name that can be remembered and unlike many modern bands, one that cannot be considered too clever for its own good:
Beresford & Wallace
.
Since they are song writer/composers - not professional singers - their goal is to sell their songs to performing singers who love their music.
In order to do that, they record their songs for the
pro's
to sample. Established songwriters have their recorded songs (usually bare bones productions, just so the listening performing singer can hear the melody and lyrics) delivered to artists who decide whether they want to perform them and/or include them on their next album.
Beresford & Wallace's first collection was
Suburban Nostalgia
. They kept at it, learning, re-inventing and enhancing their sound, and two years later, bravo! They finished
Weird and Wonderful
, which is now featured on
iTunes
and
cdbaby
!
Weird and Wonderful
is a collage of their emotional reflections of every day life - with just a touch of social criticism in one of its hits, "Spin Doctor."
The impressive cover is the artwork of John's daughter Natalie - whose day job is that of a college zoology student studying ornithology - so of course there had to be a bird cast in the picture!
More, Beresford & Wallace are participating in a frenzied British
Facebook
competition called
Storm the Charts
- comprising all independent and unsigned songwriters and bands who perform their own music. This was inspired as an antidote to Simon
Cowell
and his ubiquitous, tentacled hold on defining popular music and artists in the UK.
In a recent popular vote, an independent band won a song competition over Simon
Cowell's
entry - in part because the Brits were rebelling against
Cowell's
formulaic, PR-driven approach to pop music (Don't worry, Simon, we know you'll always have people topping the charts - the push is for more diversity!).
As a personal experience, I've loved watching John (and Annie) continue to pursue their passion over the years with unending fervor, whether they have all these new opportunities and accolades or not. Always learning, always improving, always striving to be better artists - and succeeding.
It's always fun to get an email from John with a subject line like, "We just finished cut #11!" Or, "Annie just got a (whatever the do-dad is to enhance an instrumental sound)!" Or, "Natalie just finished the cover - what do you think?"
Actually, the ! exclamation marks ! are mine. John is very British and uses them, appropriately, sparingly.
Congratulations, John and Annie-
wha
-? Oh! Of course! I mean
Beresford
& Wallace!
Labels: Annie Wallace, Beresford and Wallace, cdbaby, iTunes, John Beresford, songwriters, Storm the Charts, Suburban Nostalgia, Weird and Wonderful