My favorite new TV show
Of all the new comedies and dramas, for me this fall's breakout hit is
THE GOOD WIFE
.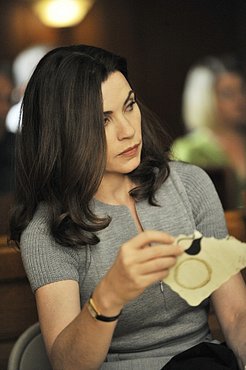 The number one reason to watch:
Julianna

Margulies
.
Heading a spectacular cast of mega-talented actors - she not only carries the show but has the opportunity to display a tremendous range as she flows throughout the multi-faceted day of her character, Alicia
Florrick
.
Alicia reminds us of how many roles we play in our real lives - responsible parent, child, in-law, spouse/significant other, housekeeper, worker, colleague/co-worker, detective, citizen,
supervisor
,
supervisee
, pet owner, friend, would-be victim or victor - and the list goes on.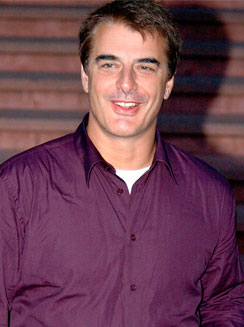 Playing the wife of a jailed, sex scandalized politician (played by the actor-who-can-do-no-wrong Chris
Noth
, billed only as a special guest star), Alicia is a determined woman who, after surviving the excruciating humiliation created by her husband's cruel, selfish and thoughtless behavior, refuses to be deceived, or tolerate insincerity or dishonesty ever again.
Ever. Again.
So she calls everything like she sees it, even if it creates discomfort for those to whom she directs her honest comments, evaluations, observations and reality checks.
Because she sees the world not as everyone else *wants* to see it, or thinks we *should* see it, but as it really is, she comes up with clever, practical and logical evidence that solves the cases she is hired to unravel in court.
Courts are notorious for finding solutions that are legal - forget morality.
THE GOOD WIFE comes up with ways to, at least so far, serve both masters - legality and morality.
THE GOOD WIFE writers have dumped fabricated script twists and turns - Alicia's disarming honesty provides plenty of relevant, surprising and very real twists and turns along the way.
Interestingly, the side story of her errant husband is also something she is cracking through her new eyes. Intolerance of dishonesty means that she has to look at her own misguided thoughts, self-deception and conclusions. Could her cheating husband actually be ... innocent? Framed?
Having said that, and forgive me for not pointing out the significant contribution of each terrific cast member, including Christine
Baranski
, Josh Charles, Archie
Panjabi
and Matt
Czuchry
- not to mention the tremendous contribution made by terrific guest stars like Martha
Plimpton
(better than I've ever seen her,
btw
), the show itself - the concept and the writing - are the real winners here.
One of the first things I thought as I have watched each episode not just as a viewer but a writer-director is that an authentic, smart, mature woman who's been there, done that, is represented here, perhaps for the first time on television, the way an actual smart, mature (at any age) woman thinks, behaves and speaks.
She is a genuine, flawed, human heroine without being an over-the-top superhero. Wait. Come to think of it, I believe Alicia's hypersensitive BS meter is her superpower.
The show is still finding its "legs," but starting out of the gate with strong, distinctly drawn characters, each of whom has his or her own goals, aspirations and Achilles heels.
This ensemble of superb actors has, IMO, been thrashing about on projects unworthy of their talents and skills for awhile; I'm so happy they've all found each other. This one is hit out of the park for all of them, and with the growth that each episode brings to the
show's
creative team, it's only going to get better.
In addition to watching live, I also
dvr
THE GOOD WIFE so I can watch it again when nothing else I want to watch is on. I also do this with 30 Rock.
Honest-to-goodness, authentic, believable, intense, passionate characters and stories worth our time. And worth watching more than once a week.
Credit show creators - writer/producers - Michelle and Robert King for that.
Well done.
And well done CBS, for not joining the ranks of desperate network programmers chasing their tails to score a fad
megahit
with
schtick
or cheap reality shows. You've developed a fine, modern drama with characters we want to see every week in stories we find believable and worthwhile, dealing with issues we care about.
Congratulations.
Now. Don't screw it up by flipping broadcast times or days or showing reruns way before the season is finished - or all the other things that have killed great shows long before they deserved to be cancelled.
Labels: best TV show this fall, CBS, Chris Noth, Christine Boranski, Josh Charles, Julianna Margulies, Michelle and Robert King, The Good Wife